Buzz Bingo Festive Drinks Review
Written by Effe Hozaifeh
The phenomenon of seasonal drinks has been something I've latched on to for a while. From the moment I caved into trying Starbucks' iconic Pumpkin Spice latte, I knew that seasonal drinks were something special. That's why when I saw the opportunity to win the chance to try the new Festive drinks of the Christmas season with Buzz Bingo, I just knew I would be the woman for the job. What I didn't know, was how much of a surprise I'd be in whilst trying all these drinks.
First stop, Greggs.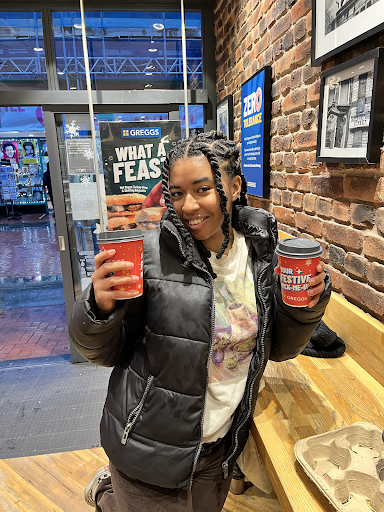 Before I get into my reviews, let me first explain my approach. I will be rating each drink out of 5. They will include factors such as Value For Money, Taste & Overall Festivity. Which one screams Christmas? Let's find out.
Greggs
Greggs – the nations favourite place for a quick, tasty treat. We all know Greggs for their Sausage Rolls, Steak Bakes, Yum Yums. Coffee? Not so much. Greggs is not my usual go to for coffee so I was definitely intrigued by the thought. I tried 3 drinks from their Christmas menu. At a humble £6.90 total, Greggs was by far the most affordable place to buy from. Unfortunately, that was the only thing they had going for them.
Salted Caramel Latte (£2.30): Watery, not at all sweet or even salty the way a salted caramel latte should be. Barely tasted like good coffee. 1/5.
Mint Hot Chocolate (£2.30): Personally, not a fan of mint chocolate so I didn't expect to enjoy this but, it was certainly a step up from the Salted Caramel Latte. Not my favourite and has a bit of a strong mint after taste that I didn't like. 2/5.
Mint Mocha (£2.30): Certainly, the best drink I tried from Greggs. The flavours worked well together, and you got to taste a bit of everything – a decent chocolatey coffee with hints of mint. A little sweetness to combat the potential bitterness of the mint and the coffee. My winner for Greggs! 2.5/5
Overall, Greggs was a let down. None of these drinks really put me in the festive mood. I was definitely surprised to enjoy the Mint Mocha and for the price (and in this cost-of-living crisis), I would recommend you try it!
Pret
Next, I decided to mosey on down to Pret A Manger. To me, Pret is the crème de la crème of coffee shops. The food is delicious, there's so much variety, they seem a bit healthier than the rest. For this reason, I expected a lot from Pret.
Gingerbread latte (£3.85): This also tasted a lot like regular coffee with the slightest hint of spice. If I were to order again, I'd have to tell them to put extra pumps of the flavouring. 2/5.
Macaroon hot chocolate (£3.85): The flavouring on this tasted very artificial which I didn't like at all. Too overpowering for me. 1/5.
Praline hot chocolate (£3.85): This just tasted a lot like a coffee even though it was allegedly hot chocolate. Nothing special. 1/5
Honestly, Pret disappointed me. I thought their drinks would be premium, top the line. I thought they would really commit to the Christmas spirit. But the choice of flavours was a let down and were just not well executed.
Starbucks
As aforementioned, I got introduced to seasonal drinks through Starbucks, so I know their potential. Their Pumpkin Spice latte is honestly one of my favourite hot drinks ever. But after the disappointment of Greggs and Pret, I was starting to think that maybe coffee and Christmas just don't mix?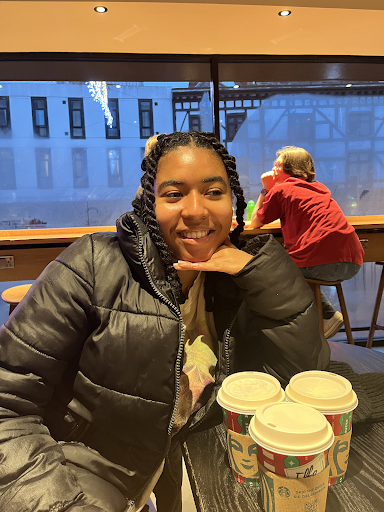 Did you catch the nervous smile?
Gingerbread latte (£4.40): SO good! Everything I expected from a gingerbread latte. Good balance of coffee and warm spices. I also liked that whilst I could taste the gingerbread flavour, it wasn't overwhelming nor artificial. Coffee was a bit bitter, but I quite liked it. 4/5.
Eggnog latte (£4.40): Surprisingly awful! Genuinely tasted a bit like nail polish. No hints of any spices of any sort. Whilst there was a flavour, I just couldn't understand what they were trying to achieve. It wasn't sweet at all either. Probably the worst thing I tried all day. Really poor execution of a festive drink if you ask me. 0/5.
Praline cookie hot chocolate (£4.50): A bit too sweet for me personally but not bad overall. There was also a bit of a lingering artificial taste and not much of a chocolate taste. 2/5.
Overall, Starbucks took me for a real rollercoaster. I think out of all the stores, they had it spot on with Festive flavours. Gingerbread, Eggnog, and Cookies are all flavours we associate almost solely with Christmas. Whilst the most expensive, they were the only one who gave me pretty large drinks so I would say you're definitely getting your moneys worth. Their cups were also really cute and were the only ones who provided cup holders (?) so my hands wouldn't get burned, so extra points to them.
Costa
Costa is one of those trusty coffee shops. Whilst sometimes on the pricey side, I think we can all agree that they will definitely give us a good drink. Costa is my safe option if you will. I've not always been impressed by their seasonal drinks though. They've never blown me out the water or anything. But I was pleasantly surprised this time around.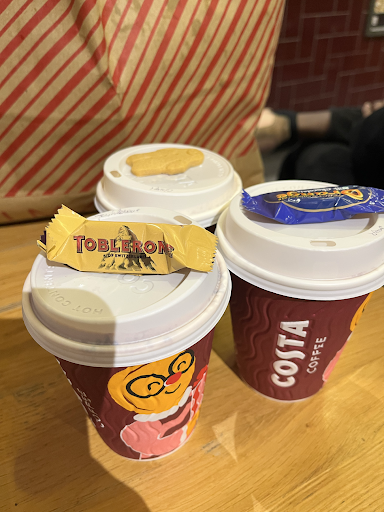 Right off the bat, Costa was offering something a bit different. Not only do they provide a very lovely Christmas takeaway cup with the cutest gingerbread man, but they also top them off with little treats! Each drink was based on some of our favourite Christmas treats – Toblerone, Gingerbread and Terry's Orange Chocolate. I am aware they usually do top their seasonal drinks with treats but after visiting the first 3 shops, this definitely made them stand out and really upped my Christmas spirit.
Toblerone Hot Chocolate (£3.90): Again, was a bit too artificial tasting for me. It was also pretty sweet which I wasn't a fan of. 2/5
Terry's Chocolate Orange Hot Chocolate (£3.90): I didn't expect to like this at all since I'm not a fan of orange + chocolate but WOW! This drink was so delicious. It was such a good pairing. The orange was present yet subtle enough to not drown out the chocolate. I also expected it to be super sweet, which it wasn't. The hot chocolate itself was really smooth. The only drink I finished through and through and would definitely order again. 5/5
Gingerbread Cream Latte (£3.70): Decent gingerbread latte. The spices are definitely a lot more subtle than the gingerbread latte at Starbucks, but it was still a really good coffee. 3.5/5
Costa came through, as always. I was so pleasantly surprised by the Orange Hot Chocolate that at this point, I really thought it would be my winner. The only downside was that the drinks did end up being quite pricey even though they were pretty small (I ordered the smallest size). It may not be the most economical choice, but I definitely left Costa as a happier, better spirited girl. Can you tell?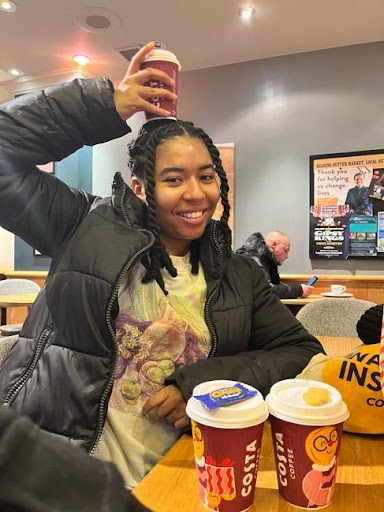 Caffè Nero
I'll admit, I didn't have very high hopes for Caffè Nero. Out of all 5 coffee shops, it's the one I've been to the least. I've only ever ordered a hot chocolate and my takeaway was that it wasn't anything special and it slightly hurt the pocket. All the same, the Festive drinks on offer sounded SO GOOD. The last stop of the day, I wasn't quite sure what to expect, but I ventured anyway.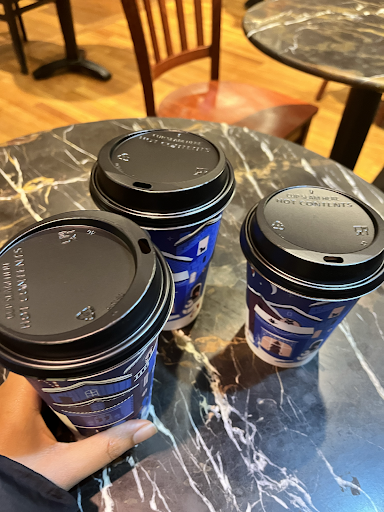 Salted caramel brownie hot chocolate (£4.25): Took a while for the flavour to set in, but when it did, I was quite impressed. It was very accurately a salted caramel hot chocolate. Not so sure about the brownie part but it was a good mix of salty and sweet. 3.5/5
Cinnamon swirl latte (£4.25): I was most excited for this one as I LOVE cinnamon swirls, but it fell a bit flat for me. It tasted like a sweet latte in which I could only really taste the spice if I was looking for it. However, I think I may have given up on this one a bit quick and am curious to try it again so see if I got an accurate representation. 2/5.
Luxury Black Forest Mocha (£4.25): Similarly, to Costa's Orange Hot Chocolate, I wasn't expecting to like the cherry and chocolate combination but let me tell you – this drink did not disappoint. The smoothness of the chocolate combined with the slight fruitiness of the cherry transported me to a different place. Probably my standout drink of the whole day! Spot on for the Black Forest flavour. 5/5.
Caffè Nero was definitely a surprise for me. Though the drinks were all priced equally, the Black Forest mocha came in a regular sized cup whilst the other two came in quite large cups, so that's something to look out for. The cups also stood out to me a lot as I thought the Christmas design was super cute and well thought out. Probably my favourite out of all of them. I think their choice of flavours were well suited to Christmas and overall, they probably had the most consistent selection of drinks, with each being pretty good. They were also on the pricier side, but I think for the quality and size, it might be worth trying.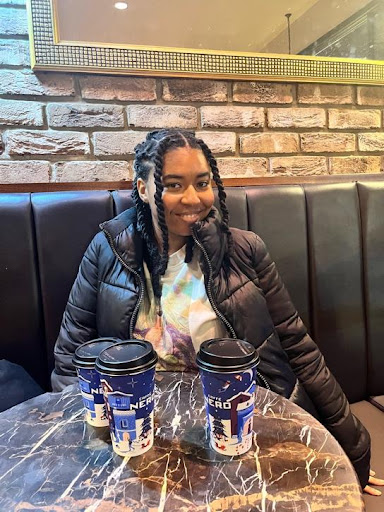 My winner of Christmas 2022 is: Costa's Terry's Orange Hot Chocolate! This drink was just fantastic from start to finish. From the little treat left on top of my drink to the fantastic combination of flavours. Not to mention it was the 2nd cheapest drink I purchased, making it just that bit more affordable. This hot chocolate definitely put me in the Christmas spirit.
Special mention to Starbucks' Gingerbread Latte and Caffè Nero's Black Forest Mocha. These two drinks both taste like Christmas in a cup and I would more than recommend everyone to try them whilst they're still around.
Overall, this was a really fun experiment. I discovered some new favourites that I'm truly grateful for and hope I've helped someone avoid the disappointment of a watery coffee this Christmas (I'm looking at you, Greggs). Merry Christmas and hope you all have the happiest of New Years!