Which Video Games Have Us Swearing The Most?
If you've ever played a multiplayer game on PC, Xbox Live or PSN, you'll be acutely aware that verbal exchanges are often far from civil.
From trash talking opponents to venting frustration, swearing is commonplace within the gaming community.
But how common exactly?
To find out, the team at
Buzz Bingo
sat through more than 25 hours of Twitch streams and YouTube Gaming broadcasts to discover the most foul-mouthed player bases and the popular streamers that swear the most.
These are the results..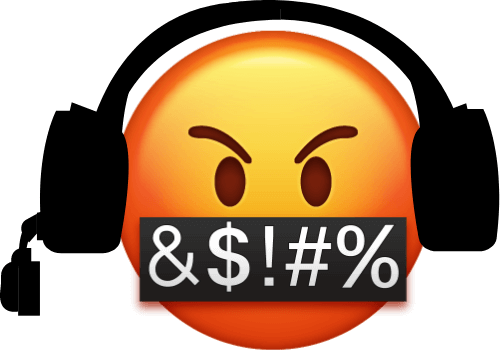 Rainbow Six Seige Players Are The Most Foul-Mouthed Base
It's official, Rainbow Six Siege players are the most toxic on voice chat, swearing on average 146 times per every 15 minutes of gameplay.

Taken as a run rate, that's a whopping 584 swear words per hour or 1 expletive every 7 seconds.

Close behind in second place is the player base of FIFA 21. FIFA gamers swore an average of 138 times for every 15 minutes of gameplay, which, taken as a run rate, translates to 552 swear words over the course of a 1-hour gaming session.

The table below details the full extent of the results, including the player bases of APEX Legends, CS: GO, Call of Duty Warzone and more.


Expletives per 15 Minutes

(Run Rate) Expletives per Hour

Rainbow Six Seige
FIFA 21
COD: Warzone
Halo MCC
GTA V
Counter Strike
Fortnite
Apex Legends
Dark Souls 3
Chivalry 2
F1 2020
Rocket League
League of Legends
RE Village
Forza Horizon 4
PC Gamers Have Anger Management Issues
Breaking down the results by platform, our research found that PC gamers were the most foul-mouthed community, swearing on average 380 times over the course of a 1-hour gaming session.

Closely following behind second was the userbase of the Xbox consoles, swearing 368 times per hour (average), which translates to one expletive every 10 seconds!

With the Halo MCC playable only on Xbox and PC, this game was found to foster a lot of frustration and expletives!


Expletives per 15 Minutes
(Run Rate) Expletives per Hour
PC

XBOX

PS

xQc Crowned the Most Sweary Streamer, PewDiePie the Cleanest
Focusing specifically on well-known streamers with a large online following, we discovered who just cannot stop cussing.

And the results revealed that Félix Lengyel - more commonly referred to as xQc - was the most 'sweary streamer', cursing on average 77 times per every 15 minutes of gameplay.

Based on the streams viewed, xQc has a swearing run rate of 308 expletives per hour which translates to an expletive every 12 seconds.

At the other end of the scale, another Felix, this one going by the name of PewDiePie was found to the 'cleanest gaming streamer'.

Swearing just 12 times for every 15 minutes of streaming gameplay. PewDiePie has a swearing run rate of just 48 expletives every hour or once every 75 seconds.

The table below displays the full rankings of the most and least sweary streamers on Twitch and YouTube:


Expletives per 15 Minutes

(Run Rate) Expletives per Hour

XQC
Castro_1021
Shroud
Moistcr1tikal
NickMercs
FlightReacts
Guns
Summit1G
Dr Disrespect
Hat Films
72hrs
Pieface
Dooley Noted
Sips
Flying Pig United
Bateson
LolTyler1
TommyKayLive